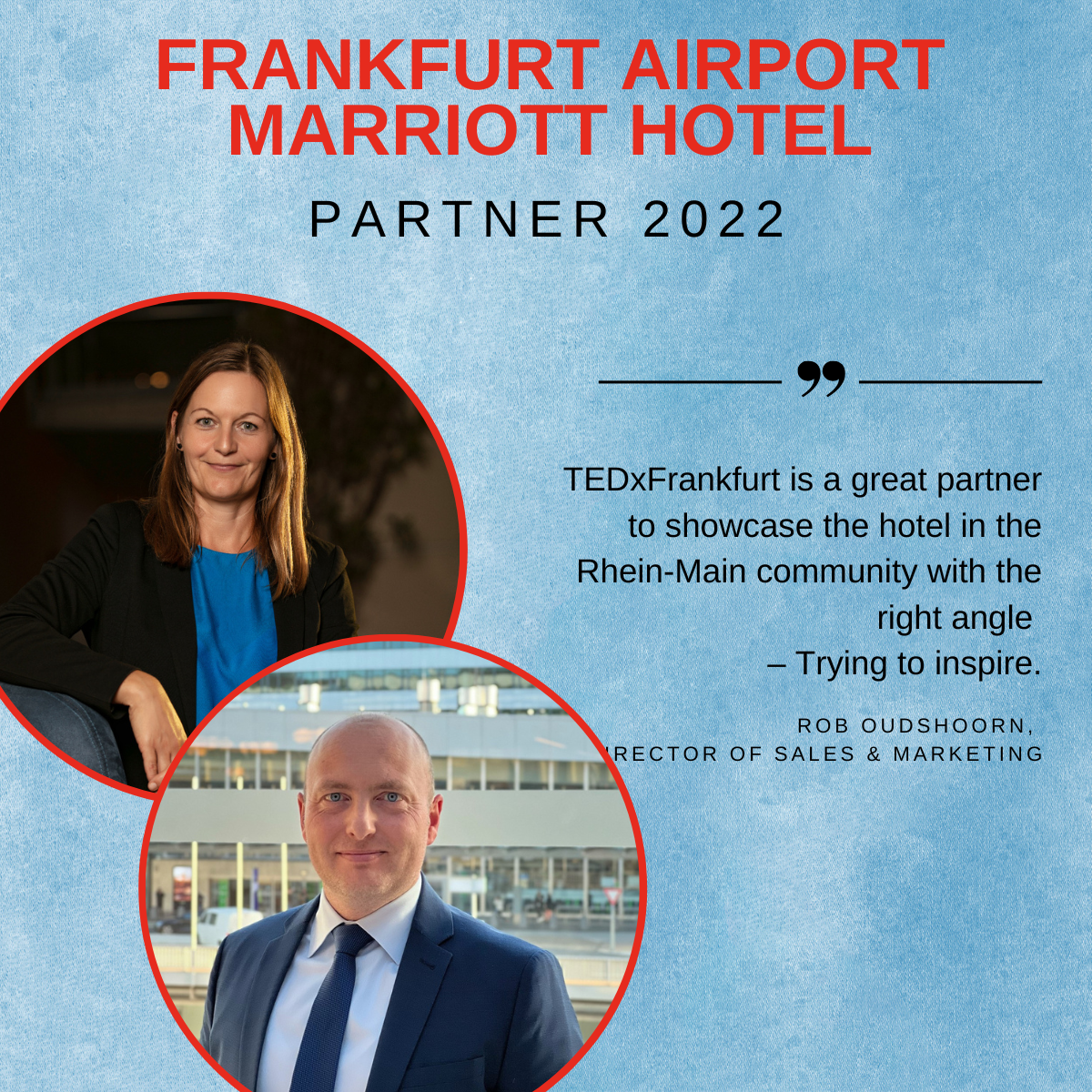 What's your name & current occupation?
Rob: Rob Oudshoorn – Director of Sales & Marketing
Kerstin: Kerstin Hartl – Senior Manager, Premium Brands EMEA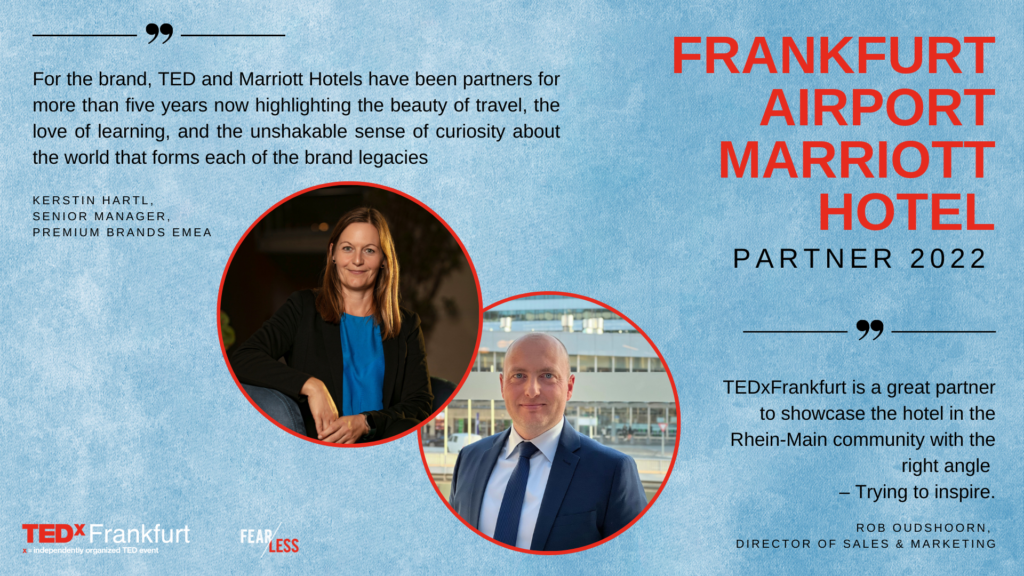 What values does Marriott have and pursue?
Rob: As a brand Marriott Hotels has a goal and promise for its guests staying in one of the hotels which is: INSPIRATION STAYS HERE
Marriott Hotels tucks inspiration around every corner. We relieve stressors and anticipate every need of our guests to stimulate new ideas. Because when our minds can travel, inspiration follows.
Kerstin: We are guided by our brand's core values in how we best deliver the brand´s unique benefits through each touchpoint we have with our guests. Allowing our guests to expand their possibilities and enrich their daily lives.
Why do you – Frankfurt Airport Marriott Hotel want to support TEDxFrankfurt?
Rob: Personally, I am highly interested in the approach, variety and aim of TED in general. The Talks truly get a person to think and rethink which I guess builds bridges in understanding each other better and get new viewpoints of a variety of topics in life. For the hotel, TED and the Marriott brand have been partners for years and with Frankfurt Airport Marriott Hotel being one of the newest premium / upper-upscale hotels in the city, TEDxFrankfurt is a great partner to showcase the hotel in the Rhein/Main community with the right angle – Trying to inspire.
Kerstin: For the brand, TED and Marriott Hotels have been partners for more than five years now highlighting the beauty of travel, the love of learning, and the unshakable sense of curiosity about the world that forms each of the brand legacies.
Travelers staying at Marriott Hotels will have access to thought-provoking and inspiring content to help jumpstart their inquisitive nature. The content is expertly by TED according to selected themes that are topical and relevant to guests, including curiosity, travel, culture and entrepreneurship.
Do you have a favorite TEDxTalk and if so, what is it?
Rob: Yes, it is the TED Talk of Kim Feenstra, I think it was one of the first talks I watched, and her story made sense, showcase growth and honesty. More than Words: Kim Feenstra at TEDxAmsterdamWomen – YouTube
Kerstin: Listening to TED talks nearly daily, there are so many interesting talks out there that spark curiosity and allow for deeper understanding and rethinking.
What does the theme "Fear Less" mean to you?
Rob: The theme triggers a lot to be honest, especially what do I fear most and why. I guess 9 out of 10 it is just facing your fears and "fears" by itself become less relevant.
Kerstin: As grown-ups with all the experience we gain in life we automatically become more careful and cautious resulting in more fear. We should all be more like children; fearless with a natural to explore without thinking about it too much!
Can you think of a situation in which you were scared but did it anyway?
Rob: Actually, it was to climb a mountain and truly did not feel to get to the top at some point during the hike. However, after 15 minutes I did continue as it literally was only a climb left of 50 meters but truly had to re-engage and let go of fears or obstacles blocking to continue the hike.
Kerstin: Not just one 😊….I am sure all of us know the feeling of being in an unusual situation, either small or large where want to get out of but can't. In these cases, I believe that if you stay true to yourself you do not have to fear as you are giving your best.
Do you have something on your bucket list that is scary, but you really want to do/try it?
Rob: There are a few and I will approach them one by one but notice that over the years I learned to accept as well a few things just are not for me.
Kerstin: I am afraid of heights but with my passion for hiking and always seeking for a higher mountain, I need to learn how to climb!