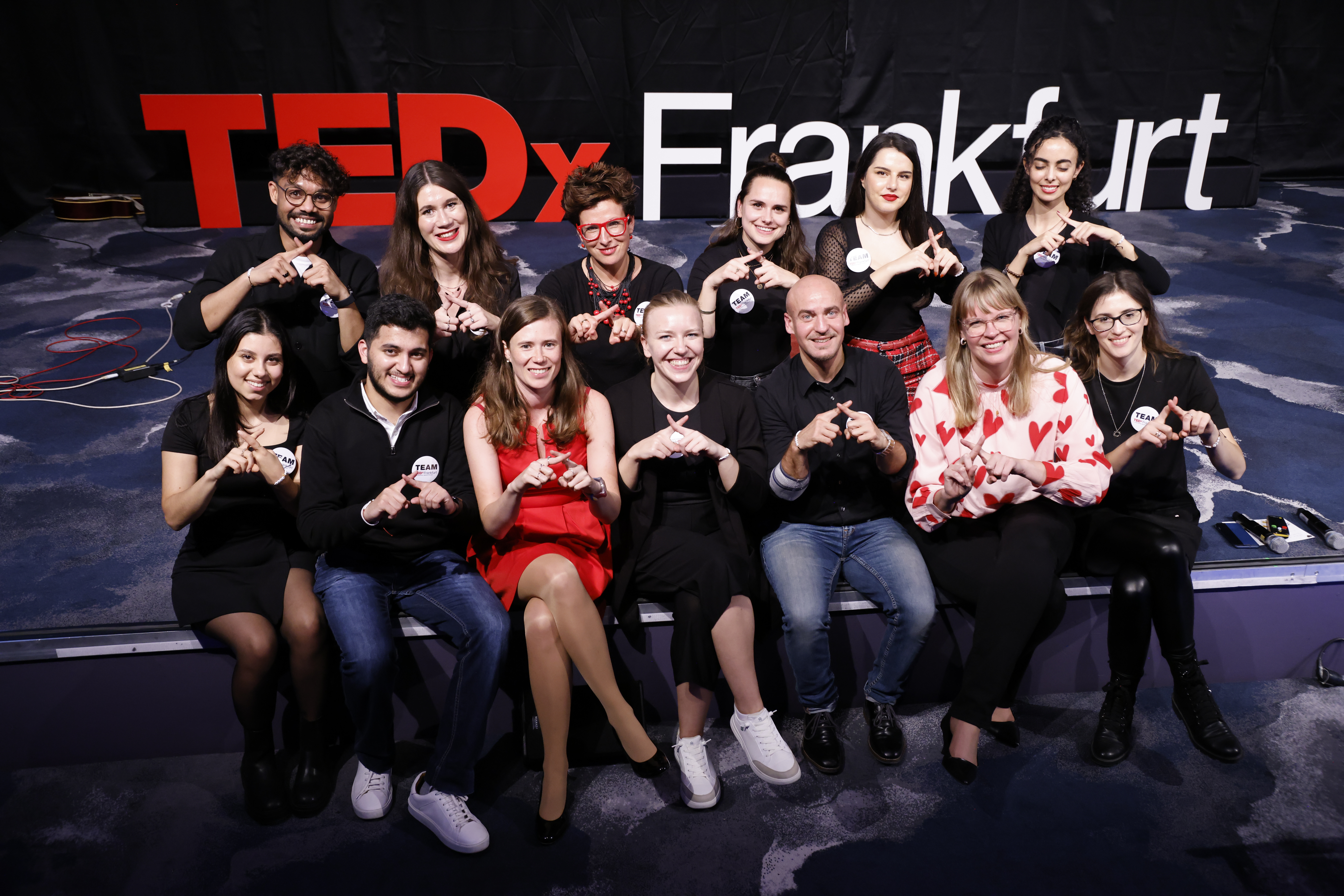 After a hybrid event in 2021, TEDxFrankfurt officially kicked off its first fully in-person event, titled FEAR LESS, at 3:00 pm on 23 October 2022, at the Frankfurt Airport Marriott Hotel.
Under the leadership of TEDx organiser Carla Banc and co-organiser Tamara Laudt, along with a team made up entirely of volunteers, this year's event set the standard for so many future events to come.
It was a special afternoon spent with 350 people who came together with open minds and enjoyed the beautiful yet cosy atmosphere provided by the Marriott staff and supported by additional TEDx partners including, Deloitte, LMW, onlyfy, candylabs and Treedom.
Eight incredible speakers were welcomed on stage from different backgrounds, origins and fields but with one thing in common: to share their story and make an impact with their learned lessons. The speakers' lineup started off strong with Brigitta Hoeferle, who enlightened us on the five levels of listening and how not listening properly cost her customers, staff and money.👂🏼Afterward, Ted Harrington encouraged the audience to 'think like a hacker' and be inventive and creative when it comes to your own goals in life.💻 Lunia Hara told the story of how she became an empathetic leader by following the guidance of her father, and why we all should lead with empathy.✨

Only on a TEDx stage could a science talk about octopus and camouflage end with a musical interlude about a love story between the speaker Mathieu Renard and his favourite animal.🐙 Pamela Spitz also shared a love story–her love story with life that she started to appreciate even more after she was diagnosed with Parkinson's disease and was forced to reshape her entire life.🛣'Listen to your intuition' and use creativity and art to overcome fear and limitations, is what Sabela García Cuesta shared with the audience in a talk full of magical encounters and unexplainable coincidences.🎨

Sometimes it takes a while until you find yourself and realize 'I am amazing the way I am', like it did with Eva Klein, who gave all of us hope to still be able to find love even after 40. ❤️ The final speaker of the day was Erica Burett, who taught us, with her own experience of being a young black woman pursuing a career in Germany, how to be fearless and never give up on our dreams and goals.💡

With this beautifully curated speaker lineup, there were also two charming performances from Louisa Laos and BÄR, who captivated the audience with their voices from the first note. 🎵 The breaks were the time to network and get to know each other, either over a game of Jenga or Scrabble or during the book signing session with the speakers. Attendees could not miss the opportunity to capture the moments at the photo box.
TEDxFrankfurt made an impact on people by giving the stage to inspiring speakers, as well as on the environment. Together with Treedom, 300 trees were planted in Tanzania to start our very own TEDxFrankfurt Forest. The audience was encouraged to add even more trees to the forest. The other special guest was the charity organization One Day, which created an impact with their Hope project and hosted a booth selling their charity merchandise at the event.
With their joyous spirits and open minds, participants went on a roller coaster ride of emotions that left the sweetest taste on the hearts of everyone who contributed to make this event happen.
As we step back and enjoy the kind words participants of this year's event share, the TEDxFrankfurt team is overjoyed and cannot wait to start preparing for the next! 😍
Check out our picture gallery!